Analysts say several hundred citizens of former Soviet republics have fled to Ukraine to avoid persecution at home, while others have joined Ukraine's armed forces to help defend the country against the Russian invasion.
"By attacking Ukraine, Russia has shattered the notion that the countries that were formed after the split of the Soviet Union are independent," Temur Umarov, an analyst at the Carnegie Russia Eurasia Center in Berlin, told Euronews.
While Russian President Vladimir Putin still has cautious support from a number of post-Soviet leaders, thousands of natives of former Soviet states are fighting on the side of Kyiv.
"People perceive this war as not just Russia's war against Ukraine," explained Umarov, "but as Russia's war against all the countries that used to be colonies of Russia or part of the Soviet Union."
Some people from former Soviet bloc countries wound up in Ukraine in late 2021 when the situation on the border began to escalate; others had already fled to Ukraine to avoid persecution in their home countries. And many of those emigres sided with Kyiv after the full-scale invasion.
Citizens from Belarus make up one of the largest groups fighting for Ukraine, with thousands joining the Armed Forces of Ukraine (AFU) or anit-Russian paramilitary groups. Some Belarusian citizens began fighting for Ukraine back in 2014 in the Donbas region when Russia began supporting pro-Kremlin separatists in the region.
In March 2022, they formed a battalion named after Kastus Kalinouski, one of the leaders of the 19th-century Polish uprising against the Russian Empire. This group grew to become a regiment in May 2022.
"Putin considers Belarusian independence a historical mistake as well," explained Aliaksandr Klaskouski, a political observer and journalist. "The Belarusians and Ukrainians have the same platform here – opposition to the 'empire'."
Belarusians who oppose President Aleksandr Lukashenko's regime hope Ukraine's victory "will open a window of opportunities for democratic changes in Belarus," Klaskouski said.
The idea of overthrowing Lukashenko by force is becoming increasingly popular inside and outside the country, Klaskouski claims. "More and more often they say that, if Ukraine wins, this regiment may march on Minsk as well," Klaskouski said.
An emotional decision or saving a life
Several million migrant workers from Central Asia live in Russia. Following the outbreak of war, Russian authorities began offering them the option to join the army in exchange for a Russian passport or a high wage.
Carnegie analyst Umarov said many of those Central Asian immigrants, under pressure from Russian authorities, were sent to fight in Ukraine.
"They have no other choice," he said, "'Cargo 200' (a military code used in the Soviet Union and post-Soviet states to refer to the transportation of military fatalities) is being brought back to Central Asia from Ukrainian territory. It's already a mass phenomenon."
One way for these people to survive is to surrender to the Ukrainian authorities or join the AFU. "And this is quite a dangerous method, given that all Central Asian countries have introduced criminal prosecution for those serving in any other foreign army," Umarov noted.
Some Central Asian countries, including Kazakhstan, have a large Ukrainian diaspora, and some residents of these countries who identify as Ukrainian and have been living in Ukraine for a long time are fighting against the Kremlin for what Umarov called "emotional grounds".
The continued Chechen Wars of Independence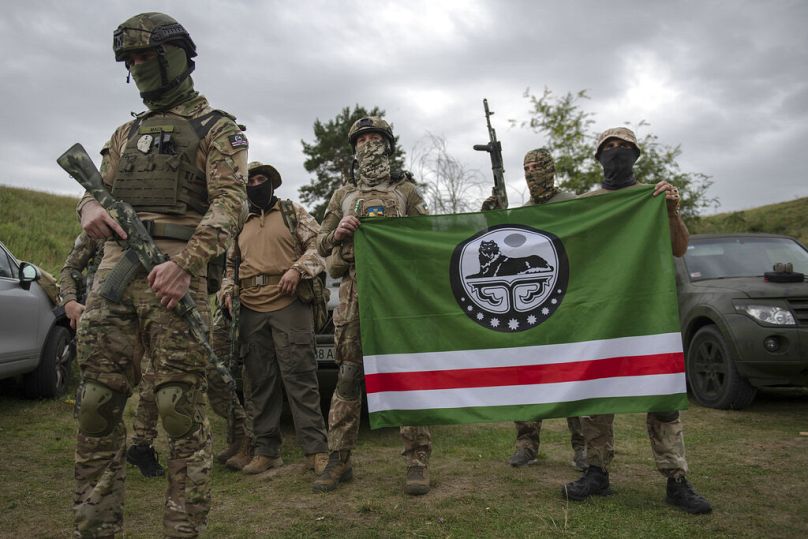 Russian citizens and Russian national minorities, especially ethnic Chechens, play a special role in the fight against the Kremlin's aggression. Analysts have confirmed there are at least eight battalion-sized Chechen units.
The largest is the Dzhokhar Dudayev Chechen Peacekeeping Battalion, named after the first president of the self-proclaimed state of Ichkeria – the name of the Chechen Republic used by Chechen separatists.
"They are there fighting for the Ukrainians against imperial Russia," explained Tracy German, a Professor in Defence Studies at King's College London. "And they see it as their common struggle for decolonisation, to use their language, their terms."
For many Chechen volunteers, the Ukrainian conflict is a "continuation of the war," as there are many veterans from the first two Chechen wars among the commanders.
According to Hana Josticova, a researcher at Glasgow University, the exact number of Chechens participating in the war on the side of the AFU cannot be verified. "These people have been exiled or are refugees and there have been many assassination attempts against them from the Russian government or Ramzan Kadyrov, the leader of Chechnya, so they're quite secretive," she said.
Hitting Russian propaganda head on
"We are defenders and liberators, not punishers," was the message the Freedom of Russia Legion interrupted Russia's Radio 7 with on the 7th of June. "The war criminals will be eliminated, except for those who repent, the ones who surrender."
This group consisting of Russians was created a year ago, but it was only after this paramilitary group together with the Russian Volunteer Corps (RDC) had penetrated the Belgorod region at the end of May that it became famous.
The fighters call themselves "a unit of Russians officially recognised by the Armed Forces of Ukraine" and their goal, according to text on their official website, is "to return truth, justice and the spirit of freedom to Russia."
"They probably have a certain degree of independence in selecting their targets, in organising their missions and a few other tactical details. But overall, they are, of course, most likely coordinated directly by the Ukrainian Central Intelligence," said Huseyn Aliyev, a Post-Doctoral Researcher on Eastern Europe at Glasgow University.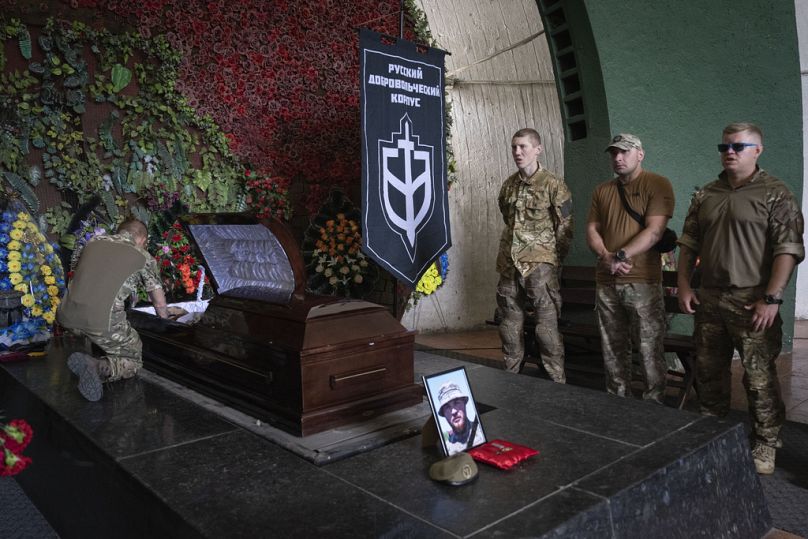 Analysts say Freedom of Russia members consist mainly of opposition-minded Russians or those who were captured in Ukraine, while RDK members speak of their right-conservative and nationalist views.
"Until very recently, they have not been cooperating with one another. But now we've seen that they have probably overcome differences and they've started conducting operations together," Aliyev said. "The very fact that units consisting mainly of Russians – including former servicemen – are fighting for Ukraine is a big hit in the face of Russian propaganda."
However, Moscow has denied that these troops are Russian citizens and claims they are Ukrainian or Western soldiers.
"Apparently, very little is reported about the origins, about the nationality of these individuals in Russia. Every [Russian] report we have seen on the Belgorod raid has described these fighters are Ukrainian, Polish or US nationals" Aliyev said.


Source: EuroNews