ALMATY — Tajikistan and Uzbekistan last year waged deadly crackdowns to crush protests that erupted in the autonomous regions of the Central Asian nations. Dozens of people were killed and hundreds arrested in Tajikistan's restive Gorno-Badakhshan (GBAO) and Uzbekistan's autonomous Karakalpakstan regions.

But experts say civil society has been the biggest casualty of the crackdowns, with prominent human rights activists, journalists, and local leaders targeted in the authoritarian nations.

"One feature that has unified Tashkent and Dushanbe's crackdowns in Karakalpakstan and GBAO has been a concerted effort to muzzle the messenger — to silence civic leaders who gave voice to the grievances of their local populations for a greater say in how their provinces are governed," said Steve Swerdlow, a lecturer at the University of Southern California.

In Tajikistan, the government's crackdown on protests over local grievances in Gorno-Badakhshan in May 2022 killed at least 16 people, although RFE/RL journalists verified 34 deaths. In July, Uzbek security forces used lethal force to crush protests over mooted constitutional changes affecting the status of Karakalpakstan, causing 21 deaths, according to an official toll.

Many of those targeted in the crackdowns have been accused by the Tajik and Uzbek authorities of promoting separatism and inciting violence, charges that human rights groups have called politically motivated.

'Total Elimination of Any Potential Activism'

One of the most prominent figures caught up in the crackdown in Tajikistan was Ulfatkhonim Mamadshoeva, a rights activist and journalist from the Pamiri ethnic minority. The authorities have accused leaders of the community, which make up the majority of GBAO's estimated 250,000 inhabitants, of fomenting the unrest in the region.
In December, Mamadshoeva was sentenced to 21 years in prison on extremism charges. She was transferred from a holding facility to a women's prison to serve her sentence earlier this month. Shortly after the arrest of Mamadshoeva and her former husband, Kholbash Kholbashov, state television aired footage that purportedly showed the pair confessing to helping plan and organize the protests.
But just days earlier, Mamadshoeva denied any involvement in an interview with the correspondents of RFE/RL's Tajik Service in the capital, Dushanbe. After the interview ended, unidentified men attacked the journalists and confiscated their equipment, meaning the interview was never broadcast.

A source close to Mamadshoeva's case, who spoke to RFE/RL on condition of anonymity, said her jailing was punishment for her regular posts about the 2021 killing by Tajik security forces of a young Pamiri man called Gulbidin Ziyobekov, as well as her long history of critical journalism.

"As a woman and as a mother the case touched her. She could not stand to one side," the source said.

Anger over Ziyobekov's death and Dushanbe's decision to remove local officials fueled the May protests. The problems in Gorno-Badakhshan and mutual mistrust between the local population and the central government date back to the country's 1992-97 civil war.

During the conflict, local leaders like Mamadshoeva and Kholbashov were on the side of the United Tajik Opposition (UTO). A peace settlement followed, and Dushanbe's sometimes shaky grip over the mountainous region saw a highly participatory civic culture emerge that was absent in other parts of Tajikistan, where Tajik President Emomali Rahmon has all but eliminated any formal political opposition.
That saw the rise of so-called informal leaders in Gorno-Badakhshan. Much to Dushanbe's displeasure, these local leaders enjoy great influence among their communities. Zamira Dildorbekova, a London-based researcher, said that residents of the region do not view civil society as a "counteragent to the government."

Instead, "while calling for greater accountability and transparency, the role of civil society and civil activism is largely perceived…as one to promote development, provide various services to the community where those are inadequate or absent," Dildorbekova said. Space for civil society is now severely shrinking, according to observers.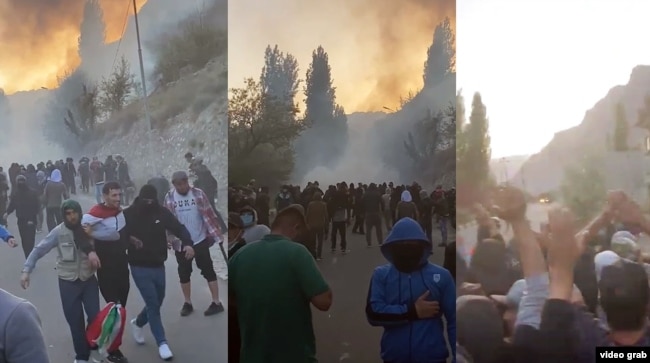 After suppressing the May protests, Tajik security forces targeted, arrested, and in some instances killed a number of prominent informal leaders viewed as counterweights to Dushanbe's attempts to control the region.

After that came scores of arrests, including of activists who had formed an ad hoc committee to demand a fair investigation into Ziyobekov's death.

Earlier this month, ahead of the one-year anniversary of the military operation that crushed the protests, five representatives of civic groups in GBAO complained that they were under pressure from the government to voluntarily dissolve their organizations.

"It seems that the government has no need for [our] organizations," a source affiliated with the organizations, who requested anonymity for fear of retribution, told RFE/RL's Tajik service.

Commenting on the claims by the civil society representatives, a spokesman for the GBAO government said that only NGOs which had "interacted with the region's criminal groups" were subject to closure, and denied suggestions of a wider policy.

The spokesman claimed that "numerous violations were found in [the] statutes and registration documents" of these organizations.

But Dildorbekova said Tajikistan's government is set on "a total elimination of any potential civil activism or any type of agency, including at an individual level, that may be perceived by authorities as able to threaten the regime in any way, at any point of time."
Karakalpakstan Violence

In Uzbekistan, the authorities have also targeted prominent civic leaders, including Dauletmurat Tajimuratov, an outspoken Karakalpak lawyer and journalist.

In January, Tajimuratov was handed 16-year prison term over the unprecedented anti-government protests in Uzbekistan's autonomous republic of Karakalpakstan last year. He was accused of attempting to overthrow the local government with the aim of installing himself as Karakalpakstan's ruler.

In an interview with RFE/RL during his appeal hearing last week, Tajimuratov's lawyer Sergei Mayorov called his client "a political prisoner, upon whom the authorities laid the blame for their mistakes."

The errors that Mayorov was referring to included the Uzbek authorities' decision to draft constitutional amendments that would have done away with the 2 million-strong region's legal right to hold a referendum on secession from Uzbekistan.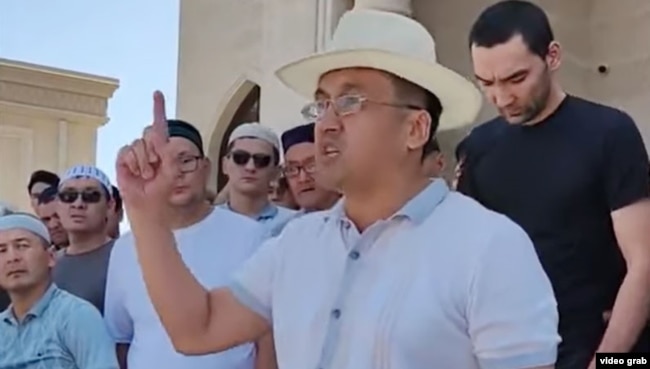 Tajimuratov and other public figures openly opposed the move, and it was his arrest that appeared to provoke a large protest in the territory's capital, Nukus, on July 1. Unlike GBAO, Karakalpakstan is an autonomous republic and has its own flag and parliament, while the Karakalpak language, similar to Kazakh, has official status.

The government walked back the changes following the deadly protests during which security forces fired into crowds. Despite Karakalpakstan's special status, central government control over the republic has been tight, and space for activism arguably even more limited than elsewhere in Uzbekistan.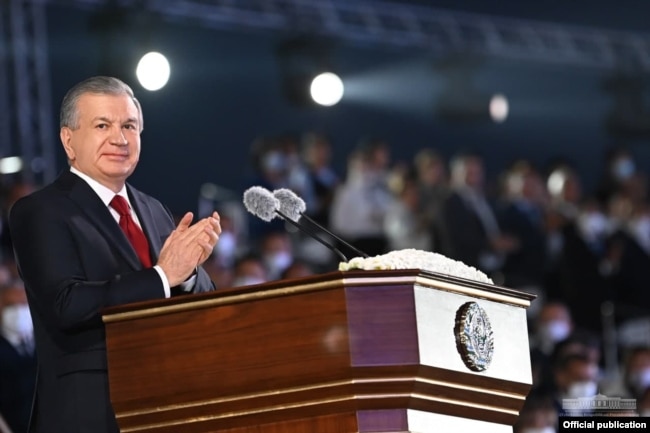 During his trial, Tajimuratov praised Uzbek President Shavkat Mirziyoev for his reforms since coming to power in 2016, which he said had allowed activists to raise and discuss problems. But many experts have said that last year's violence could mark a definitive end to the authoritarian regime's so-called thaw.

Tajimuratov was one of more than 20 defendants sentenced in January, and dozens more received punishments in March.

"I think we can say that the key to reforms and freedoms in Uzbekistan lies in what happens now in Karakalpakstan," said Aqylbek Muratov, a longtime Karakalpak activist based in Kazakhstan.

"Because if you have repression in one region and not in another, the ethnic tensions that already exist will only grow more quickly. It won't be sustainable. Whatever policy Tashkent decides for Karakalpakstan, we will see the effects in Uzbekistan as a whole," Muratov said.

Source: Chris Rickleton for RFE/RL