Elections in Greece come less than three months after the deadly head-on train collision at Tempe in the north of the country that killed 57 passengers. The incident on 28 February triggered demonstrations against the government of Prime Minister Kyriakos Mitsotakis, chastising him for initially blaming the collision on "tragic human error."
The unrest that followed caused the government to delay announcing the election date, which had been anticipated in April. Due to a new voting law, the elections will be held under a proportional representation system, wherein the leading party needs to secure at least 46% to have a chance to win absolute majority in parliament. However, this percentage has not been reached in the last three decades, making a clear victory on 21 May unlikely.
The Tempe crash reignited long-running concerns over political impunity in Greece. While Transportation Minister Kostas Karamanlis resigned in the aftermath, the opposition and families of the victims have emphasized the continued need for accountability.
Demonstrators have echoed decades-old protest chants calling out the lack of enforcement of extensive regulations due to an absence of political will and responsibility amidst an inefficient justice system.
In yet another recent example, Ilias Kasidiaris, a jailed senior member of the neo-Nazi criminal group Golden Dawn, actively cultivated online support to participate in the 2023 elections – before a Supreme Court ban on his new party – despite laws prohibiting his access to social media from the high-security Domokos prison.
The issue of impunity cuts across Greek politics, with clear cases of government negligence – such as the Tempe rail crash – occurring throughout different administrations. This sense of impunity alongside ongoing polarization has seen tensions in the Greek political process regularly spill over into acts of political violence, most notably through attacks on political party supporters and politicians, and violent clashes between police and anti-government demonstrators.
Civilian targeting – particularly around elections, and often carried out with impunity – underscores a trend toward the normalization of violence in Greek politics. Certain pivotal issues, such as police brutality and government negligence, often reignite tensions in the streets. Ahead of the 2023 elections, this report analyzes these incidents as indications of an enduring normalization of political violence in Greece.
Violence Against Political Party Members and Representatives
ACLED records nearly 200 events of violence targeting civilians in the past four years alone. More than 65 of these incidents occurred during the previous election year of 2019 (see graph below), with a spike in May – the month both local and European elections were held, and two months before the national elections in July. While the high level of violence targeting civilians in 2019 has not been matched since, increases were reported in both 2021 and 2022, following lows in 2020.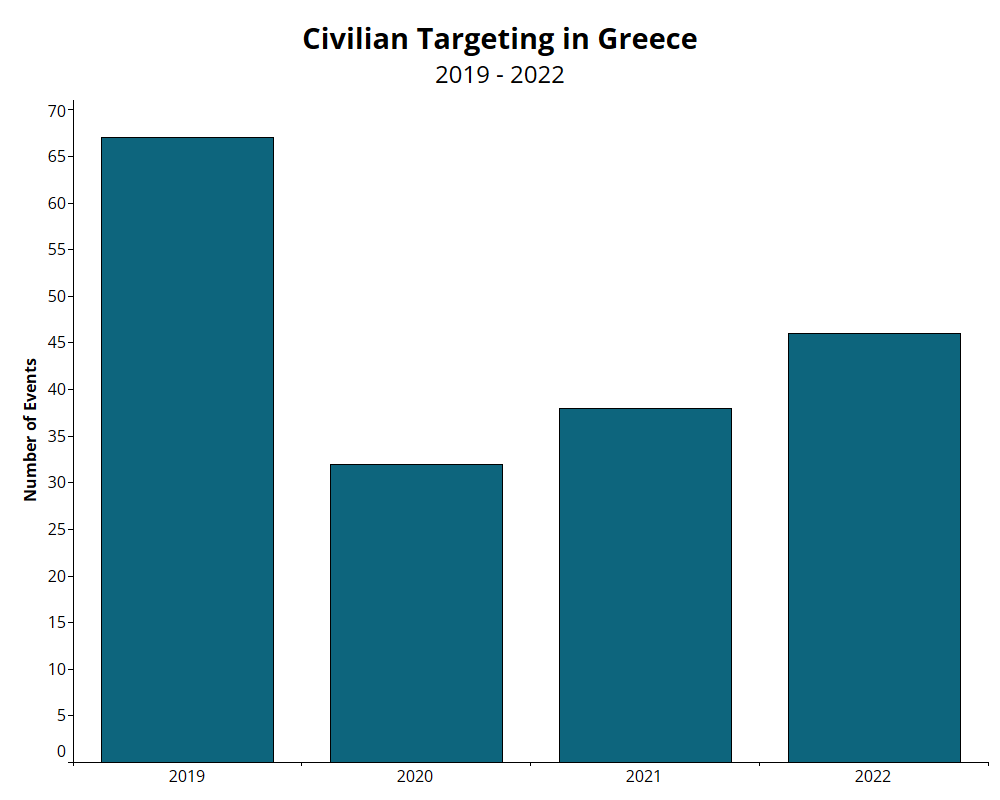 Notably, party members from across the political spectrum were targeted in at least 20 reported incidents between January 2019 and March 2023 (see graph below). This form of political targeting noticeably coalesced in 2019 with 10 events, mostly concentrated around local and European elections in May and national elections in July.
The events in 2019 constitute half of all violence targeting political party members and candidates in the past four years. At least eight incidents were recorded just in the three months before the July 2019 elections. The majority of attacks – including all such violence in 2021 and 2022 – have targeted left wing parties, such as the Socialist Workers Party (SEK), the Communist Party (KKE), and the Coalition of the Radical Left (SYRIZA).
However, New Democracy, the center-right party of Prime Minister Mistotakis, was also the target of two reported attacks in 2019 as well as one incident in 2020, when anti-establishment groups attacked the mayor of Athens.
Most attacks have occurred in the context of riot events, wherein assailants have ambushed candidates and members of political parties on the street or attack them at their party offices. While the identity of some perpetrators remain unknown, six attacks have been attributed to far-right groups, and two cases were explicitly affiliated with Golden Dawn.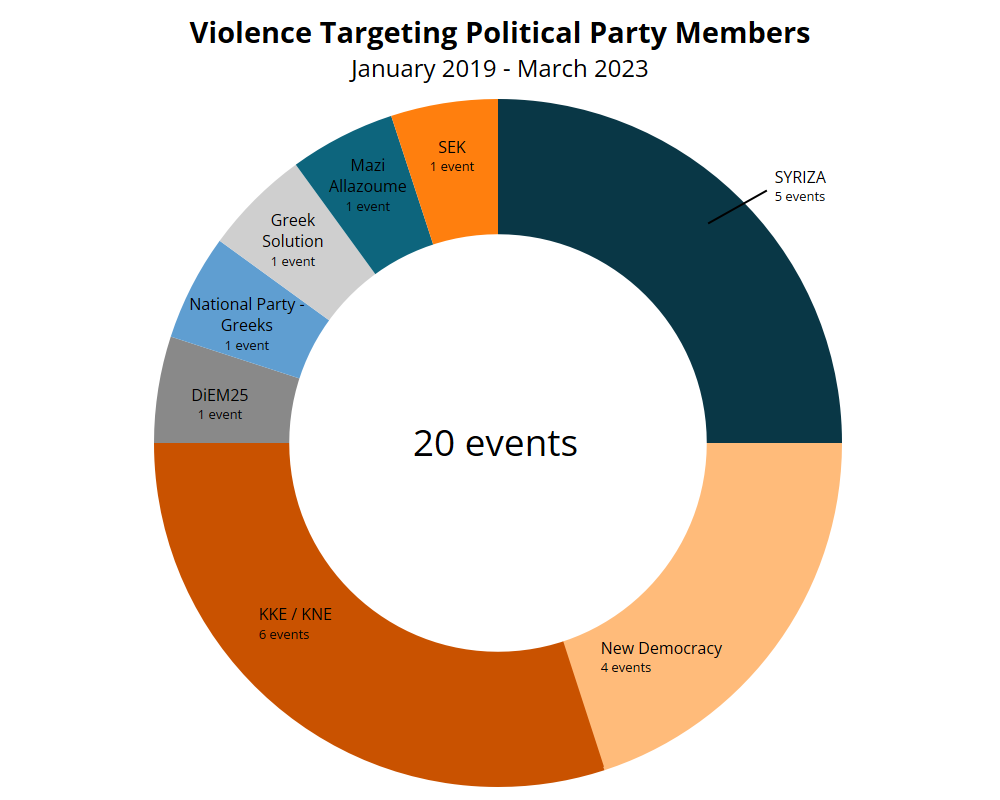 While violence has been lower in the lead-up to this year's general elections than in 2019, there have been several high-profile attacks in 2023. In March, members of an unidentified anti-establishment group attacked Christos Rigas, a former member of Golden Dawn and candidate for Kasidiaris's National Party – Greeks, in Athens.
In the same week, Yianis Varoufakis, a Democracy in Europe Movement 2025 (DiEM25) member of parliament and former finance minister with SYRIZA, was also attacked in the Exarchia neighborhood in Athens. While police have arrested two suspects with anti-establishment connections, Varoufakis claimed they were hired thugs; the investigation is ongoing.
The increase before the 2019 elections and the high-profile attacks so far in 2023 forebode the potential for further attacks in the lead-up to election day and the high likelihood of a second round of voting.
Tensions Between Anti-Government Demonstrators and Police in the Streets
The targeting of political party members and other civilians exists in a larger context of normalized political violence and police impunity in Greece. Since coming to power in 2019, Mitsotakis's government has positioned increased policing as a cornerstone policy and touted it as a victory for restoring law and order.
However, this comes as state forces face growing allegations of abusive acts of violence. Opposition parties have criticized the government's approach to policing and impunity for abuse, centering it as a key issue in the upcoming election.
The tense relationship between the left and police – historically associated with the right has led to regular clashes between police and demonstrators. Both police forces and demonstrators anticipate violence – particularly at demonstrations related to police brutality and the far-right.
Violence has frequently broken out at tense moments surrounding specific issues, such as the demonstrations in the aftermath of the Tempe rail crash. While the majority of Tempe rail crash-related demonstrations remained peaceful, at least 14 events turned violent – all of which saw police using tear gas among other tactics of intervention, as well as reports of police vehicles driving directly into demonstrators.
Some demonstrators also used Molotov cocktails, threw rocks, and barricaded roads. A similar pattern was observed during demonstrations in December 2022 after 16-year-old Roma teenager Kostas Frangoulis was killed by police in Thessaloniki. Frangoulis's death at the hands of police and the subsequent clashes with state forces during demonstrations illustrate a violent manifestation of these tensions, similar to other inflection points since 2019 (see graph below).
Such tensions come amid ongoing concerns over widely reported incidents of police brutality against anarchists and minority groups such as migrants, the LGBTQ+ community, and Roma in Greece that often remain unresolved.
While it is unclear how pivotal this issue will be for voters, long-standing tensions over acts of police abuse will likely persist. Furthermore, without substantial government reforms, the cycle of alleged abuse incidents and subsequent clashes with police is on track to continue.
Normalization of Political Violence Likely to Endure
The normalized state of political violence in Greece, heightened during campaign periods, presents a worrying landscape ahead of the 2023 elections. With the new election law in place, a majority government is unlikely to emerge from this round of voting. While either of the two major parties could form a coalition government with smaller parties in the first round, this is also unlikely, opening the scenario for voters to head to the polls again in July.
Given the historical trend of declines in demonstration activity in the summer months – tied to the heavy focus on the tourism industry – it is unlikely mass demonstrations will erupt before the second round. However, the heightened violence targeting political party members and candidates observed before elections in 2019, and the targeting thus far in 2023, suggests that further violence remains possible in the interim.
This violence rarely makes a top headline in Greece. Images of demonstrators throwing rocks and setting fires while engulfed in a cloud of tear gas and flash grenades, or reports of a politician punched in the street, do not generally trigger broader political and social upheaval. In contrast, impunity in cases of isolated police brutality or far-right violence – particularly fatal ones – reignites tensions with police and government, producing a cycle of persistent violence and unrest.
While the issues of impunity and police violence have become a political sticking point for opposition parties, this cycle points to an ongoing presence of political violence in Greece regardless of the election outcome. Moreover, despite the high number of political targeting incidents, concerns about the frequency of such incidents do not often factor into dialogues over larger concerns for democracy in the country. At its worst, this trend indicates a deep-seated normalization of political violence that is unlikely to waiver with a change in administration.

Source: ACLED