A plurality of respondents also say that Beijing is a 'necessary partner;' not a 'rival' or an 'adversary.'

A plurality of people in European Union nations believe that China is a "necessary partner" to their countries, as opposed to a "rival" or "adversary," according to a new report on the continent's foreign policy attitudes released Wednesday by the European Council on Foreign Relations.
The poll, which included over 16,000 respondents from 11 member states, also shows that a solid majority of those polled would prefer that their respective countries remain neutral in a potential conflict between the United States and China concerning Taiwan.
While most Europeans view the United States as an "ally" or "partner," they also overwhelmingly believe that Europe should boost its own security and defense capacity and cannot always rely on Washington to guarantee its security, according to the survey.
The survey, which was carried out in April this year, polled representative national samples in Austria, Bulgaria, Denmark, France, Germany, Hungary, Italy, the Netherlands, Poland, Spain, and Sweden. Opinion often differed from country to country.
The poll was conducted as European leaders have presented differing views on how Europe should address China's ascendancy as a global power.
On April 9, French President Emmanuel Macron gave an interview to Les Echos and Politico, arguing that Europe must avoid getting dragged into a U.S.-China conflict, while Ursula von der Leyen, who heads the European Commission, pushed Europe to take "bolder" actions to respond to China's increasing international assertiveness and domestic repression of dissident voices.
The survey asked respondents to categorize the United States, China, and Russia as either "an ally – that shares our interests and values," a "necessary partner – with which we must strategically cooperate," "a rival – with which we need to compete," "an adversary – with which we are in conflict," or "don't know."
Concerning China, "the findings of ECFR's latest poll show that, in many ways, European citizens are more on Team Macron than Team von der Leyen. They do not see China as a power that challenges and wants to undermine Europe, and they do not buy into the 'democracy versus autocracy' framework promoted by the Biden administration," according to the report.
"Despite the 'no limits' partnership that China and Russia announced in February 2022 and Beijing's subsequent refusal to condemn Russia's aggression against Ukraine, the poll results show that Europeans' perception of China has changed surprisingly little when compared with the results of the poll conducted in 2021. Now, the prevailing view in almost every country in which we polled is that China is Europe's, and the respective countries, 'necessary partner' possible."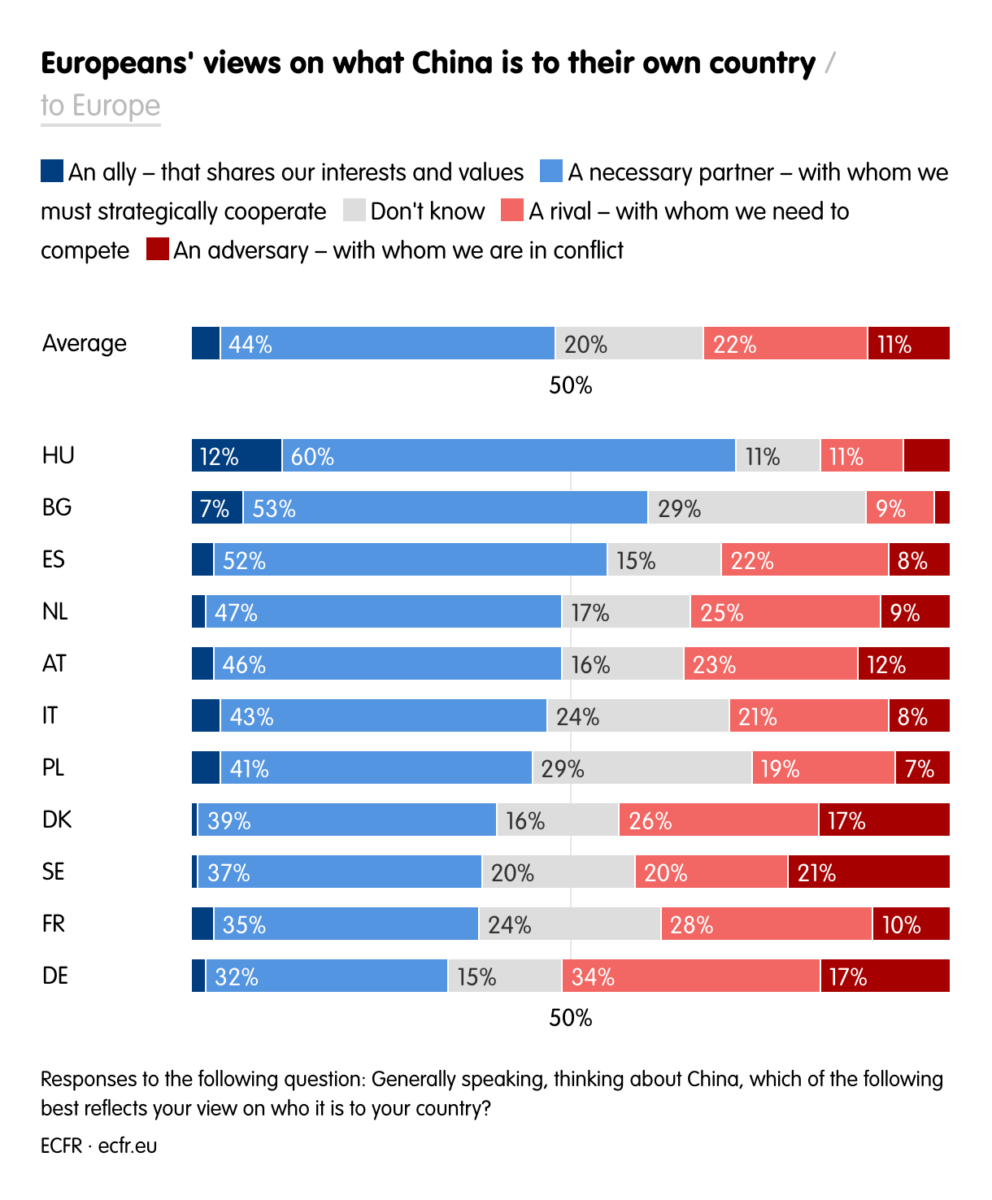 Most respondents continued to view Beijing as a necessary partner, with the notable exceptions of those in Germany, where a slight plurality named China as a "rival." Germany, Sweden, France, and Denmark are the only countries where the prevailing view is that China is a "rival" or an "adversary," rather than an "ally" or "partner."
In the EU as a whole, just under half of respondents view China as either "an ally" (3.3 percent) or "a necessary partner" (43 percent) to their respective countries, compared to 33 percent who consider it either a "rival" (22 percent) or an "adversary" (11 percent).
The poll found that a strong majority of respondents consider Washington to be either an ally or a partner. Despite the perceived closeness with the U.S., Europeans are hesitant to support one side over the other in a potential conflict with China.
More than 60 percent of respondents believe that their countries should remain neutral if China invaded Taiwan and the United States came to its defense. Neutrality was the plurality view in all 11 countries, and the majority view in nine of them.
To some, this is evidence that the positions of policymakers in Europe do not reflect the will of their populations. "A mere 23% of Europeans polled by ECFR think that Europe should back [the] USA in a war with China over Taiwan. No more than 35% even in [the] most hawkish [countries]," tweeted historian Adam Tooze. "Perhaps it is time for policy to consistently reflect these stark facts."
"European leaders and think tank experts are mostly aligned to the U.S, the voters much less," added Gérard Araud, Paris's former ambassador to the United States.
Further, nearly three-quarters of those surveyed believe that Europe should invest in their own defense capabilities and cannot always rely on the U.S., which was an eight-point increase from the last time this question was asked in November 2020. Less than 10 percent said that the U.S. would always protect Europe.
"The chief takeaway from our survey is that Europeans want to see the EU become more self-reliant in foreign policy and build up its own defensive capabilities," said the report's co-author, Jana Puglierin, in the accompanying press release. "These are not new demands of the EU, or of the leaders of its member states, but they have been sharpened by the war in Ukraine and the growing tensions between the US and China."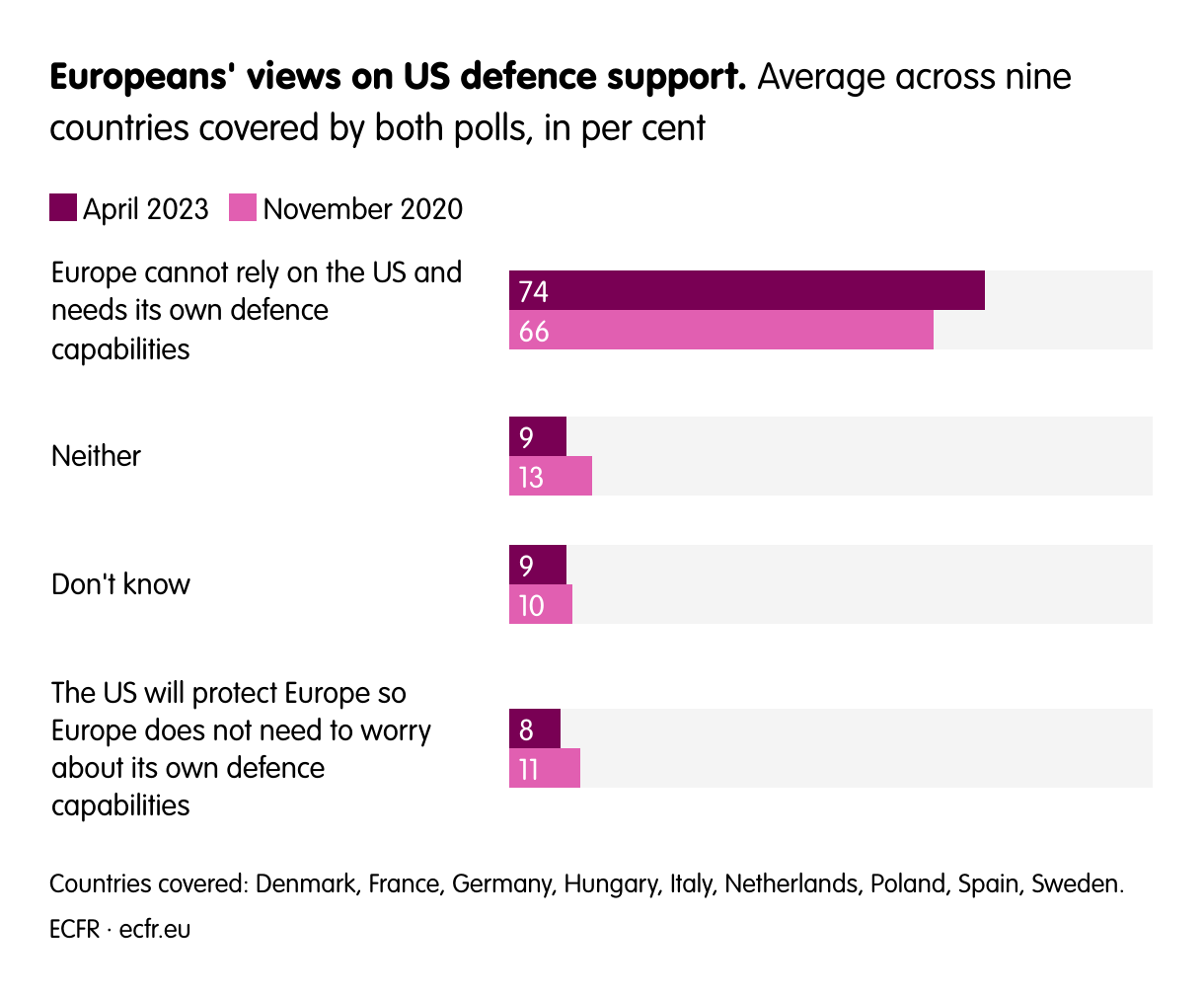 When it comes to Russia, there is a strong consensus among all countries — with the exception of Bulgaria — that Russia is an "adversary." The picture, however, is less clear in terms of relations with Moscow once the war in Ukraine is over.
While views on this question diverged meaningfully among the surveyed nations, a plurality of respondents in 10 of them said that their "country should have a limited relationship" in the case of a negotiated settlement.
The lone outlier was again Bulgaria, where a slight majority called for a "fully cooperative relationship" with the Kremlin. The country with the most anti-Russia respondents was Poland, where 39 percent wanted their country to "end all ties with Russia," even after the conclusion of the war.
"Europeans may want more 'strategic autonomy' and less dependence on the United States for their security, but Russia's invasion of Ukraine has reanimated the transatlantic security link and will likely keep U.S. forces in Europe for years to come," noted Charles Kupchan, who served as director of European affairs in the National Security Council under former presidents Barack Obama and Bill Clinton and is currently based at the Council on Foreign Relations.
"Moreover, even with increased defense spending, it will take years, if not decades, for Europe to acquire the military capability it would need to wean itself off America's hard power," he told Responsible Statecraft. "Public attitudes notwithstanding, Russian aggression against Ukraine ensures a stable and durable transatlantic consensus on the importance of NATO and U.S.-European teamwork on European security."
But, Kupchan added, "a transatlantic consensus on China will be harder to sustain. As the poll shows, many Europeans see China as a 'necessary partner' more than a rival. Given the tensions building between the United States and China, Washington may have a hard time maintaining transatlantic unity when it comes to commercial engagement with China as well as geopolitics in the Asia-Pacific."

Source: Blaise Malley for Responsible Statecraft