Restrictions on religion don't just affect those who are religious. People who are religiously unaffiliated also are harassed because of what they believe.
In 2020, the number of countries where religiously unaffiliated people experienced harassment rose notably, according to Pew Research Center's recent report about restrictions on religion around the world.
Religious "nones" – a group that includes atheists, agnostics and people who don't identify with any religion – were harassed by governments, private groups or both in 27 countries in 2020, up from 22 the previous year.
"Nones," along with Jews, saw the greatest increase in the number of countries in which they were harassed: Both groups faced harassment in five additional countries in 2020. Other religious groups either saw decreases or little change.
The number of countries where the unaffiliated faced harassment was much higher in 2020 than in 2012, when Pew Research Center began tracking this measure. In 2012, the Center found only three countries where nonreligious people faced harassment.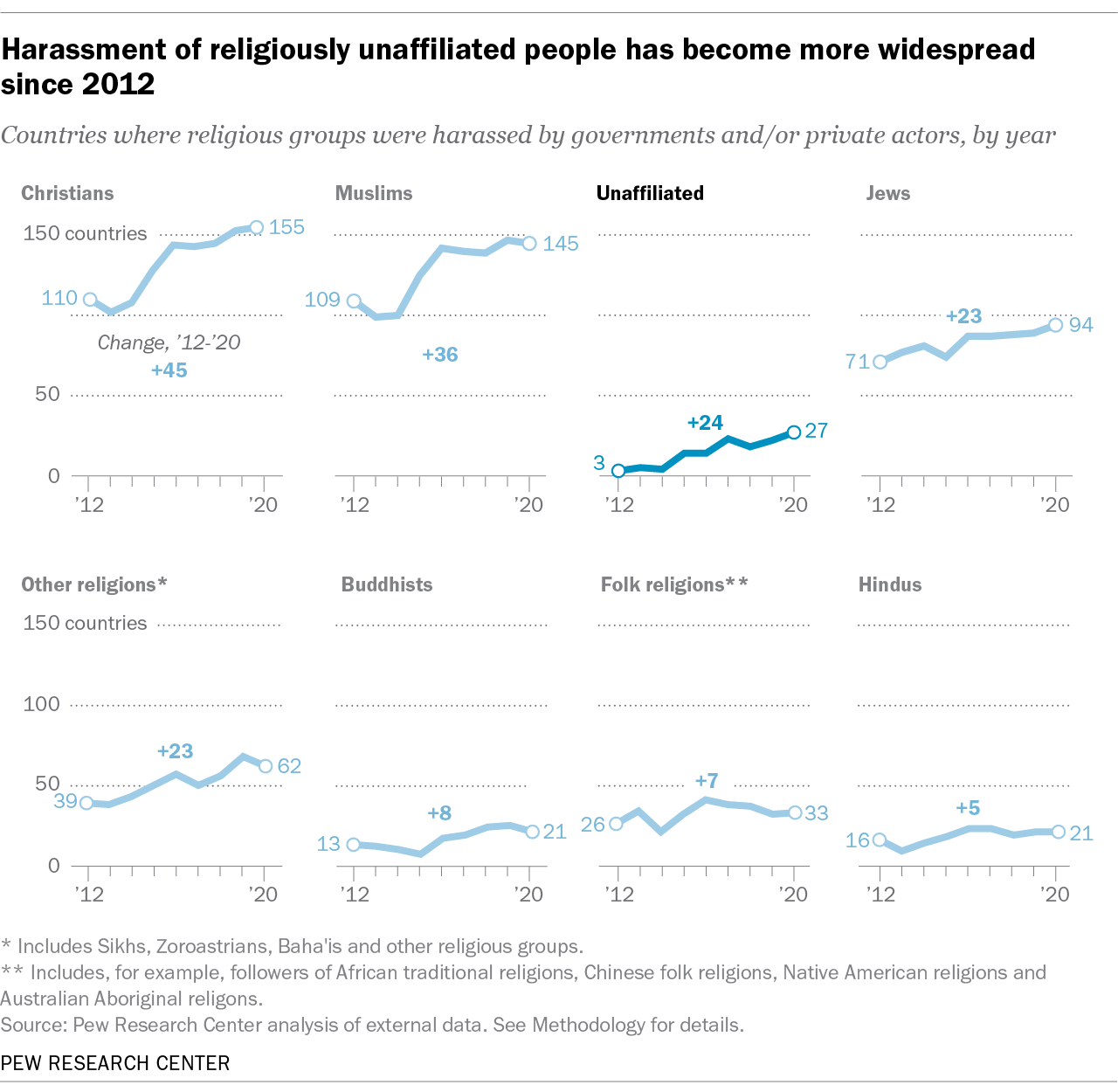 As defined in the study, harassment can include a wide range of activities, from verbal abuse to physical violence and killings. Government harassment is perpetrated by governments, while social harassment is committed by private individuals and groups. The study also captures cases where individuals or groups feel singled out or unable to express their religious belief or nonbelief.
In 2020, religiously unaffiliated people experienced harassment by governments in 19 countries (up from 14 the previous year), according to an analysis of a set of widely available sources used to measure this phenomenon consistently over time.
In Egypt, for example, an atheist activist was sentenced to three years in prison and fined 300,000 Egyptian pounds ($19,100) for running a Facebook page called "The Egyptian Atheists." In other countries, atheist groups complained that governments promoted a dominant religion or did not make provisions for nonreligious individuals in society.
In Croatia, for instance, a majority-Catholic country, atheist groups alleged that the presence of Roman Catholic symbols in government buildings, such as courtrooms and public hospitals, violated the constitution.
And in Pakistan – where Islam is the official state religion – the government requires people to state their religious affiliation on national identity card applications and does not offer a "no religion" option.
The religiously unaffiliated faced social harassment in 13 countries in 2020, up from 11 countries in 2019. For instance, in Lebanon, a political satirist speaking on OTV, a channel backed by the Christian Free Patriotic Movement political party, claimed that "atheism is the religion of donkeys." In the Maldives, nongovernmental organizations reported that secular individuals frequently received death threats or were cyberbullied.
In five of the 27 countries where the unaffiliated faced harassment in 2020 – Egypt, Jordan, the Maldives, Qatar and Tunisia – both government restrictions and social harassment occurred.
In Tunisia, a woman who identified as an atheist was fined and sentenced to six months in prison for parodying a Quranic verse in a social media post about the COVID-19 pandemic. Some atheists in Tunisia also reported that they faced societal pressure to hide their atheism and to continue practicing Islamic traditions, such as fasting during Ramadan.
The religiously unaffiliated make up 16% of the global population, behind Christians (31%) and Muslims (25%). In two-thirds of the countries where the unaffiliated faced harassment, another religious group formed a large majority of at least 80%. Of these 18 countries, 12 were majority Muslim and six were majority Christian.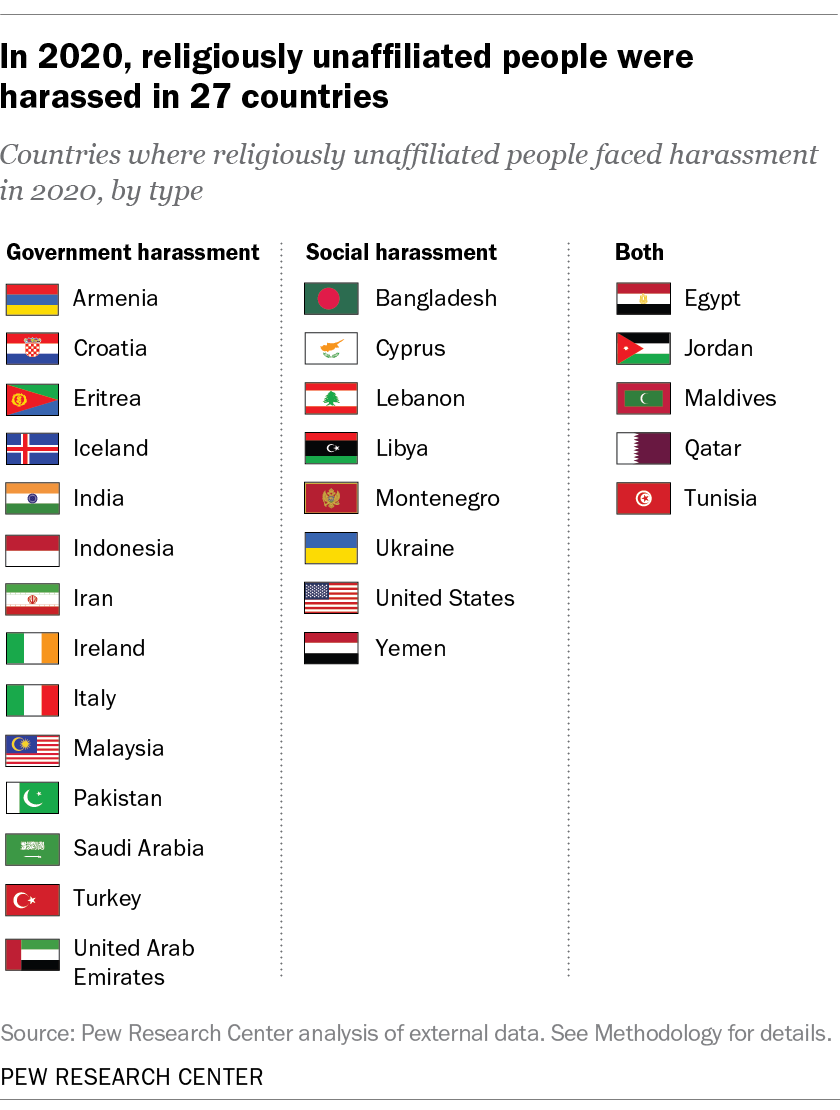 Ten of the 27 countries where nonreligious people were harassed in 2020 are in the Asia-Pacific region, where more than three-quarters of the world's unaffiliated people live. Harassment also occurred in nine countries in the Middle East-North Africa region, as well as in a total of eight countries in Europe, sub-Saharan Africa and the Americas, including the United States.
Although religiously unaffiliated people have faced increased harassment in recent years, the number of countries involved is still relatively small when compared with the number of nations where Christians, Muslims and Jews were harassed.
In 2020, Christians were harassed in 155 countries, up from 153 the previous year, while Muslims were harassed in 145 countries, down from 147. Jews, who represent about 0.2% of the global population, were harassed in 94 countries, up from 89 countries the previous year.
Most religious groups have experienced harassment in an increasing number of countries over the long term. In 2020, 189 of the 198 countries and territories analyzed in the report saw harassment of one or more groups, compared with 166 in 2012.
Note: This is an update of a post originally published Aug. 12, 2019.

Source: Pew Research